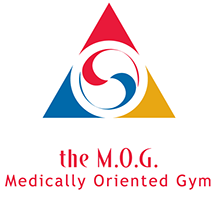 Physical Therapy/Movement & Fitness as provided by MOG (Medically Oriented Gym)
The MOG is co-located with Sheridan Medical Group in Tonawanda and Grand Island.
Physical Therapy
The Physical Therapist is responsible for restoring function for patients who have a variety of musculoskeletal and movement disorders.
Diagnoses appropriate for PHYSICAL THERAPY are:
Joint Pain
Tendonitis
Stroke
Back and Neck disorders
Balance disorders
Cancer and Lymphedema
Muscle weakness
Arthritis
Workers' Comp Injuries
The MOG
The MOG is not a traditional fitness club. With its unique integration with physical therapy, the MOG has proven to improve the health and lifestyle management of its members and participants. Through collaboration with Sheridan Medical Group, the MOG has developed protocols and program interventions for patients with:
Diabetes
Obesity
High Blood Pressure
High Cholesterol
Cardio Vascular Diagnosis
Cancer
Problems with Balance
Parkinson's Disease
Neurological Disorders (i.e. Parkinson's)
Anxiety/Depression
The MOG provides traditional "fitness club" exercise programs and has multiple classes including circuit training. It is "more than an ordinary gym".
If you would like a referral for physical therapy or fitness evaluation, please talk with your primary care provider and/or your medical home team or call our office at 332-4476.